We work with students to improve their writing skills for school and beyond
JBH Tutoring offers a variety of services to help students become stronger writers and better students.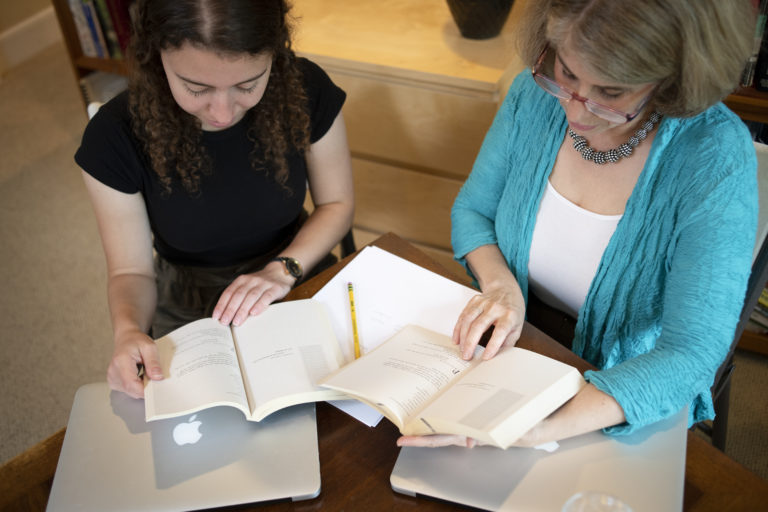 We offer practical, actionable strategies and support to help students improve their work on writing assignments. 
We guide students toward crafting compelling, authentic college essays from start to finish in a supporting, engaging environment.
Due to the spread of Coronavirus, all tutoring is offered online until further notice.
Experienced and effective – We have a history of success using customized strategies to help students write stronger papers and craft authentic, compelling college essays.
Warm and welcoming – we encourage our students by using gentle humor and our unwavering belief in their ability to improve their writing through weekly practice and feedback.
Praise from parents and students
Just a quick note to acknowledge the exuberance [my son] demonstrated after today's session with Cassandra. Joining us for dinner, my son beamed with pride, announcing he'd created his best written work ever. While he has always put in effort, these sessions have clearly created in him a new level of skill and improved confidence.
Thank you so much for your outstanding work with [my daughter] on her personal statement and supplemental essays. It is such a relief to have three applications submitted! I greatly appreciate your accommodating [her] learning style by meeting with her for shorter sessions. Your communication with both of us was outstanding, even more so when my daughter returned to boarding school.
Jane Kokernak worked with my daughter on writing her college essays and with a tight deadline. We were worried initially that there wouldn't be enough time to complete them. Jane created a timeline, helped [my daughter] stay focused and provided valuable feedback. Jane was wonderful to work with! My daughter's personal narratives were thoughtful and well-written.
Jane Hirschhorn is clearly passionate about teaching. I had the opportunity to overhear the end of a session with our son and her energy is engaging and motivating. We have had many writing coaches and none of them have been able to help our son more than Jane. We are so grateful for the excellent work they are doing together this year. Our son no longer dreads writing assignments.
parent of a New York City private school student
Working with Beth Herbert was really great! Beth was so personable and helped me to find my own voice and the story that I wanted to share for my college admissions essays. I never felt pressured to change anything I felt was necessary to my paper, and I was really proud of my work. Working with Beth was a great opportunity and I learned many lessons that carried even past just writing my college essays.
Student, College of the Holy Cross class of 2026
Thanks so much for this great service you provide [college essay support]. I think it has been super helpful for my daughter. Going through this process has assured her (and us) that she has done literally everything she could do to improve her chances of getting into a five-year physician assistant program.
Thanks, Jane! I can believe that the oral review of strategies [you used in session] was helpful to [my son]. I've been pleased with the work he's been doing with you ⁠— thank you!
Parent of a Newton South High School student, Newton MA
I thank you again for working with [my daughter]. This could have been an awful process to write these essays. Instead, with your guidance and leadership, I believe it has been a process of self-discovery for [her]. Again, thank you . . . this couldn't have gone better, especially during a pandemic!
[My son] completed and submitted his [assignment] last night. He had added a few more sentences and asked me to proof prior to submitting. Wow! I'm so impressed by the progress he's made these past few months. I can't tell you how grateful we are to have you working with [him].
[Jane has] been a huge help with the [college essay-writing] process and have facilitated making this essay something that is truly [my son's] own creation.
I was extremely fortunate to have help in this process. Your guidance when developing my personal essay was some of the best advice I could have received to put me in the position that I am in now.
Student, Cornell University class of 2024
I definitely couldn't have made it through the college application process without your help --you definitely gave me great advice that made me more confident in my writing. Thank you so much!
Student, Brown University class of 2024
Jane K. was such a perfect match for helping [my daughter] on her college applications. The neat thing is that the one-on-one work has strengthened her writing abilities and those skills will certainly come in handy in the next four years and beyond!
I just wanted to let you know that I have decided that I am going to the University of Texas at Austin. Thank you so much for your help! I couldn't have done this without you. You really gave me some great advice for my essays and helped me shorten them down while making them stand out. Thank you for all of your help and advice and for being so accommodating!
Kedar Raman, accepted to the University of Texas at Austin/Cockrell School of Engineering, class of 2022
My tenth grade daughter and my son who will be a college freshman worked with Jane this summer (2017) to improve their writing and reading comprehension skills. Jane was very accommodating with scheduling their sessions, and she provided weekly written feedback which was very helpful for me to see their progress. Jane understood their strengths and areas for improvement, and they both learned a lot from their writing and reading assignments. My daughter and son greatly benefited from their tutoring sessions, and I would not hesitate to use Jane's services again.
While I was originally skeptical of getting help from a tutor, I honestly can say that my experience with Jane gave me a really important perspective on my college essay. Having gone through many previous drafts and having many ideas on the table, Jane really pointed me in the right direction by giving me a clear angle to my writing. She helped shape my ideas into one coherent thought while also making me dig deeper, and so I ultimately ended up writing a more complete and thorough piece that I was genuinely proud of.
Newton South High School, MA senior, class of 2016, Brown University class of 2020
My son, a sophomore at Newton South High School, began working with Jane in the middle of his freshman year. The one-hour, weekly sessions were of immediate value. Jane went over writing assignments with him in detail, helping him to organize his thoughts and clarify his vision for each writing assignment. Over the course of time, his writing has certainly improved; he is now a more confident writer and a more interesting writer. Sentences are more complex and ideas are more fully developed. The written feedback that Jane provides each week is also useful to me as a parent —it gives me a clear snapshot of precisely what transpires during each session. My child's grade in English has consistently progressed over the course of his work with Jane and he was even recommended for Honors English next year!
[My daughter] has made great progress on her essays. She will be the first generation college student in the US in our family. I am so grateful for your tutoring during the past four months, as well your encouragement that has inspired her to do better. Thank you again!
Thank you for your updates and for all of your creativity in helping our kids during this challenging time. It has truly been a blessing.
[My daughter] has made great progress on her essays. She will be the first generation college student in the United States in our family. I am so grateful for your tutoring during the past four months, as well your encouragement that has inspired her to do better. Thank you again!
Thank you so much for your help on my essay. I couldn't have asked for a better person to help me.
Student, Newton North High School class of 2021, Newton, MA
Subscribe to our newsletter
Subscribe to our newsletter and get our latest updates. 
Keep up to date with our latest blog posts for more helpful information.
JBH Tutoring works with students who want to improve their writing skills in order to get better results in school and beyond.